Bratislava
Mobile Axe Throwing
Bratislava Mobile Axe Throwing
Custom event duration (minimum 2 hours)
2 lanes for throwing axes
6,2 meters long lanes
Two professional Axe Masters
Axe throwing lesson for the start
Learn multiple different games
Standard axes, plus tomahawk & two-bladed axe

Optional: Drought beer, hostesses & more
Rated as one of the most unique
things to do in Bratislava
, our axe throwing is available at
our popular location on the Danube river bank
or we can reach your venue with our mobile trailer that features two lanes for safe axe throwing.
The throwing of axes is so popular because it is competitive, beginner-friendly and fun. Plus we can upgrade your private or company event with our extras, that include beer, pretty hostesses & hosts and several more optional perks.
All events must be within 25 km from city centre of Bratislava
Extra travel 25,00 – 49,99 km
Extra travel 50,00 – 99,99 km
Number of training throws
Number of competitive throws
Image Slide 1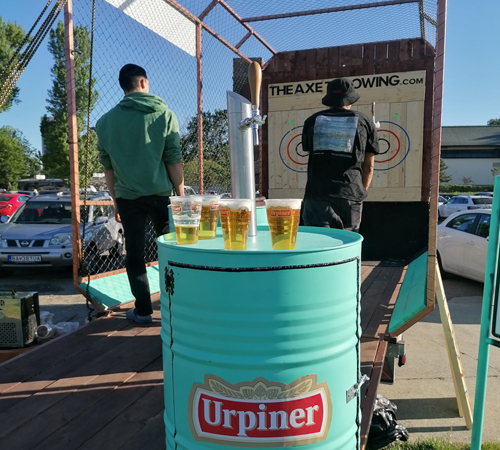 I never done the axe throwing before and this was good fun. We were approached by your young female coworker who offered a good deal on axe throwing & beer combo. I paid extra for another 10 throws as this was really good.
Image Slide 2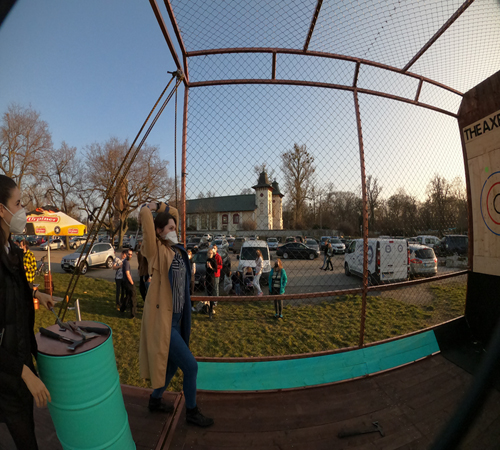 We had the outdoor axe throwing on our company event in May 2021. It worked extremely well after the months on home-office and to our surprise the ladies loved it equally as our male colleagues. Highly recommended 👍🏻
Bratislava – Tyršovo nábrežie